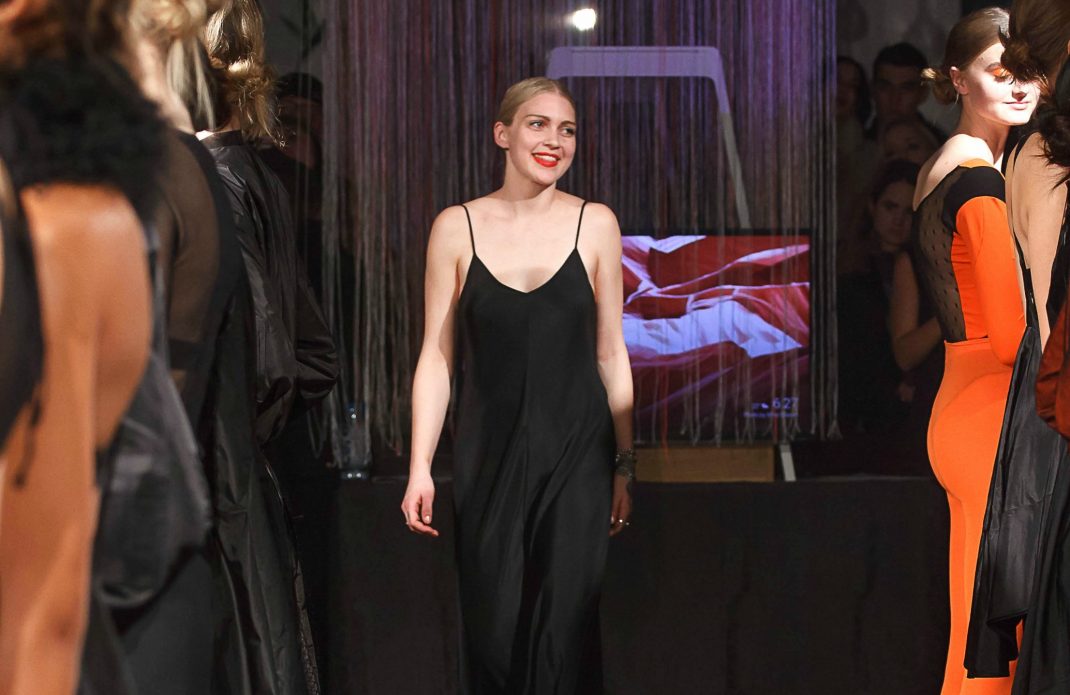 See All The Pieces From Katie Gallagher's Fall/Winter 2017 "Hallow" Collection
So, unfortunately, I had to miss the Katie Gallagher Fall/Winter 2017 show due to weather conditions and complicated commute. And I wanted to see it so bad, because Katie Gallagher's creative vision is just out of this world. However thankfully, I did get the photos from the runway to share with the world and that's exactly what I'm doing, because Katie Gallagher's Hallow is a very special collection.
[metaslider id=1958]
Photos courtesy of Shawn Punch
Here's what you need to know about the collection:
Set in New England during autumn, Katie Gallagher's Fall/Winter 2017 collection, Hallow, finds inspiration in men's military apparel, specifically the MA-1 bomber jacket. Developed in the 1940s, the bomber jacket provided warmth and safety to pilots during air combat in WWII.
In the decades following, the garment became one of the most identifiable pieces of military apparel, finding its way into popular culture by the end of the 20th century. Gallagher has featured iterations of the bomber jacket in many of her past collections, using tulle, lace, and other unlikely materials to create the traditionally heavy, masculine garment.
Like early bomber jackets that were lined in orange, Gallagher's color palette features black and orange hues, which also recall the colors of autumn and death most commonly associated with All Hallow's Eve.
Hallow relies heavily on textures and subtle details, featuring point d'esprit and tulle that form non-traditional, dainty, and triangular silhouettes. Materials include airy swiss dot paired with heavy opaque wool, silk, English tulle, Mountain Goat, lambskin, and pony fur leathers. Gallagher's signature twisted seams finish turtleneck sleeves and leggings.
Hallow is Gallagher's ​1​6th ​collection. Gallagher's past collections have been celebrated by Vogue, The Cut, Nylon, Glamour, Refinery 29, W Magazine and Teen Vogue, among others, for her attention to detail, superior craftsmanship, and creativity. She pulls inspiration from her childhood, music, art, and her life in New York City. More information is available at katiegallagher.com.