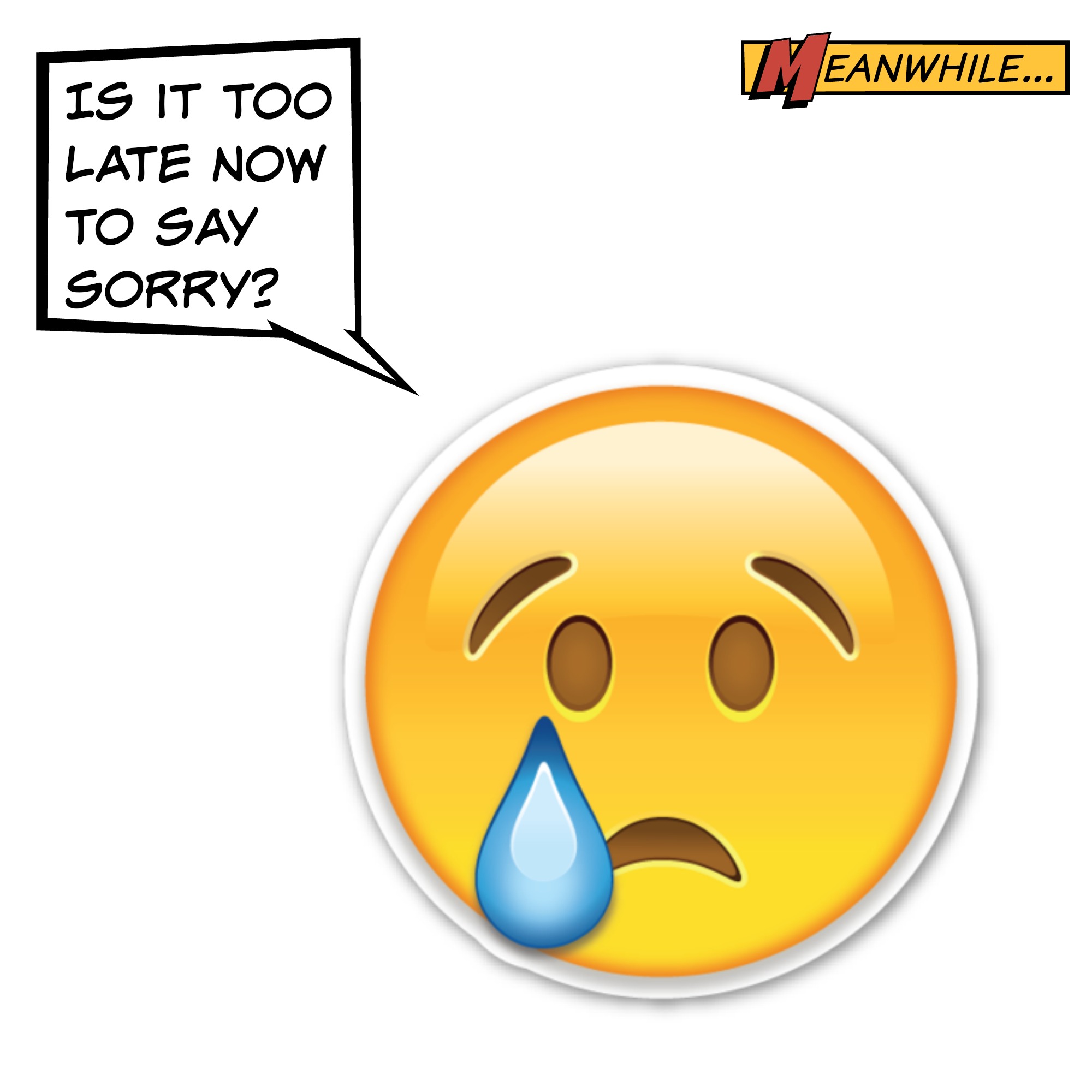 You're Sorry? Say it With a Song.
So you really, absolutely, terminally, karmically messed it up. Big time. Right now, you can feel that your soul died a little inside and you have no freaking clue how to make your friends, family or romantic partner forgive you or trust you again. If you hurt someone real bad, you're not the only one. We all do it, we're human after all and sometimes we're just plain – well, stupid. Good news is that there is an antidote, there is a silver lining and for only $9.99 this world of possibilities will be yours when you purchase my book. JK…
All you need to do is add more music to your life and really let it guide you. You know what I mean?
Now you can take various approaches with these songs, all depending on how deep in those murky waters of guilt, shame and misery you are. If you think that all it takes is a well-worded note or a text, then by all means directly quote the lyrics of these songs or use them as inspiration to write your own. If you're up to your waist in those murky waters and you know how to play a guitar – good for you, you can now cover these songs and sing them to the person. If you don't know how to play the guitar, now's the time to learn. And if you're really up to your neck, you should probably buy a boombox and pull a John Cusack. Who ever said that public apologies are easy? Or apologies in general?
Fret not, my friend. If nothing works out, we can sink together.
And speaking of water…
1. Melanie Martinez – "Soap"
"I feel it coming out my throat,
Guess I better wash my mouth out with soap,
God, I wish I never spoke,
Now I gotta wash my mouth out with soap…"

2. Flume feat. Kai – "Never Be Like You"
"I'm only human can't you see,
I made, I made a mistake,
Please just look me in my face,
Tell me everything's okay…"

3. AWOLNATION – "Not Your Fault"
"Baby, when I'm yellin' at you,
It's not your fault,
It's not your fault, yeah and,
Baby cause I'm crazy for you,
It's not your fault,
It's not your fault, yeah…"

4. Rihanna feat. Mikky Ekko – "Stay"
"Not really sure how to feel about it.
Something in the way you move,
Makes me feel like I can't live without you.
Yeah, it takes me all the way.
I want you to stay…"

And just in case they need further reassurance…
5. Hurts – "Stay"
"We say goodbye in the pouring rain,
And I break down as you walk away.
Stay, stay."

6. Brandon Flowers – "I Can Change"
"I can bend,
I can break,
I can shift,
I can shape,
Blaze a trail through the driving rain,
Girl, I can change for you,
I can change for you…"

7. Meg Myers – "Sorry"
"Sorry that I lost our love, without a reason why,
Sorry that I lost our love, it really hurts sometimes,
And I'm sorry, sorry,
What do you want, what do you want me to say?
Sorry that I lost our love,
Until the end of time…
"

8. Coldplay – "The Scientist"
"Come up to meet you, tell you I'm sorry,
You don't know how lovely you are…"

9. Beck – "Blue Moon"
"Don't leave me on my own,
Don't leave me on my own,
So cut me down to size so I can fit inside,
Lies that will divide us both in time…"

10. Jordin Sparks – "Battlefield"
"I never meant to start a war,
You know I never wanna hurt you,
Don't even know what we're fighting for,
Why does love always feel like a battlefield?"

11. The Maine – "I'm Sorry"
"I'm sorry, I'm not what you wanted, I'm sorry, I'm sorry I let you down and,
I could use some poor excuse 'cause the hardest thing to say,
It's the hardest thing to say in the world;
I'm sorry."

12. The Temper Trap – "Love Lost"
"I know it's hard
But I can still hear it beating,
So if you flash your heart,
I won't mistreat it,
I promise…"

13. Yeah Yeah Yeahs – "Maps"
"Wait, they don't love you like I love you…"

14. Oh Wonder – "Without You"
"Cause I'm kicking up stones without you,
Can't pick up the phone without you,
I'm a little bit lost without you,
Without you…"

15. Justin Bieber – "Sorry"
"Is it too late now to say sorry?"

*These are in no particular order.*